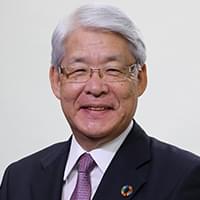 FUTAMIYA Masaya
Chair, Committee on Responsible Business Conduct & SDGs Promotion, Keidanren Director - Chairman, Sompo Japan Insurance Inc.
FUTAMIYA Masaya is Chairman of Sompo Japan Insurance Inc. which has been taking a leading role in CSR in Japan and was awarded "Global 100 Most Sustainable Corporations in the World" in 2009 and 2010. Sompo group is included in the Dow Jones Sustainability Indices for 20 consecutive years and MSCI ESG Leaders Indexes ・MSCI SRI Indexes for 2019.
He joined Sompo Japan Insurance Inc. (then, Nippon Fire & Marine Insurance) in 1974 and was appointed as President from 2011 to 2016.
Also externally, he was appointed as Chairman, Keidanren Committee on Nature Conservation since 2015, Chairman, Council for Better Corporate Citizenship (CBCC) since 2015, Chairman, Keidanren Committee on Responsible Business Conduct & SDGs Promotion, Board member of the Redefining Value for WBCSD since 2015, Committee Member, SDGs Promotion Roundtable Meeting since 2016,