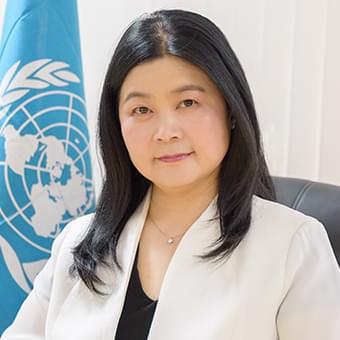 Michiko Enomoto
Head of Office Asian and Pacific Centre for Transfer of Technology (APCTT) United Nations Economic and Social Commission for Asia and the Pacific (UNESCAP)
Ms. Enomoto is the Head of Asian and Pacific Centre for Transfer of Technology (APCTT) of the United Nations Economic and Social Commission for Asia and the Pacific (ESCAP). APCTT is the regional institute which promotes innovation and technology transfer for ESCAP member States, located in New Delhi, India. Through APCTT, she provides policy advice and capacity-building supports to member States to design efficient Science, Technology and Innovation policy, facilitating technology transfers and promotes regional cooperation among member Countries.
Prior to heading APCTT, she was with the United Nations Economic Commission for Europe (UNECE) in Geneva, Switzerland over a decade. She was the UNECE Secretary of the Committee on Innovation, Competitiveness and Public-Private Partnerships, leading the work on Science, Technology and Innovation policy. She also worked as the Secretary of the UNECE Advisory Group on Protection and Implementation of Intellectual Property Rights for Investment.
She has number of publications on issues related Innovation Policy, with special reference to Green Technologies; Information and Communication Technology Policy; and Use of the Internet for Efficient International Trade; among others.